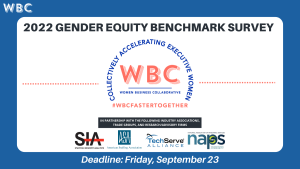 The staffing and recruiting industry can play a unique role in the evolution of gender equity position, and power in the communities we serve. Weekly, we connect close to 3 million temporary and contract employees with employment opportunities that can both enrich their lives and provide for their well-being. Our industry represents a mix of more than 60% women who work diligently to support both their clients and candidates. And yet, gender equity in staffing, particularly in positions of leadership, remain a challenge we have yet to solve.
The Women Business Collaborative is launching the 2022 Gender Equity Benchmark Survey. This survey, with support from the American Staffing Association (ASA), Staffing Industry Analysts (SIA), TechServe Alliance, and the National Association of Personnel Services, will provide a new benchmark to see progress we've made over the last two years when we conducted our first survey.
Please complete the survey by Friday, September 23. Thank you in advance for taking the time to complete this important survey.
Interested in results? You will have the opportunity to provide your email information at the end of the survey if you want to receive the compilation of survey results.