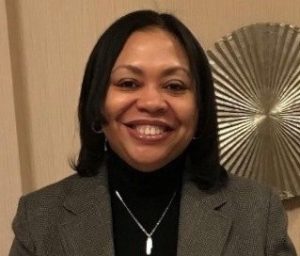 Dayneen Caldwell
D. Dayneen Caldwell, MS HR Ed, SHRM-SCP, PHR
Senior Certified Human Capital Executive
Dayneen, a native New Yorker, who currently resides in Yaphank, New York. A Professional Development Practitioner in mind, body and heart who is passionate and committed to working with individuals and helping them to develop to their fullest potential as well as working with organizations to leverage the skills of their workforce—Human Capital—in ways that are strategically beneficial to their mission. With over 25 years experience as a strategic HR and Operations Management Executive, she specializes in bridging-the-gap between current realities and future possibilities—operationalizing Visions, Missions, Values and Strategies. Dayneen is a senior certified Human Resource Professional that holds certifications through the Society of Human Resources Management (SHRM), Human Resources Certification Institute (HRCI) and is also a certified practitioner of Myers-Briggs® Type Indicators (MBTI®). She is an active member of several professional organizations.
Dayneen is the Chief Human Capital & Compliance Officer at Win, responsible for creating and overseeing a strategic HC infrastructure aligned to the business strategies, organizational growth, ensuring compliance and mitigating risks.
She also has previous senior level work experience in the financial services, telecommunications and entertainment industries. In addition, Dayneen has provided Consultative Services in various industries for over 20 years.
Dayneen served as a Mentor for the SHRM and INROADS New York, a Peer Advisor for JPMorgan Chase employees, Mentoring Consultant for SMART START and various Line-of-Business Mentoring Programs within The Chase Manhattan Bank. She was a trailblazer in the Diversity, Equity & Inclusion space spearheading the creation and expansion of Affinity Groups across the Chase, Chemical and the JPMorgan Chase mergers from 1 to 30. Dayneen was a recipient of JPMorgan Chase Chairman's Award in recognition of maintaining stellar work performance. She was a recipient of an African-American Achievement Award in recognition of Leadership to the African-American Community. Dayneen has been a member of the National Black MBA Association for several years, with positions of the Employment Committee Chairperson then to the VP, Administration and onto then Presidency of the Westchester/Greater Connecticut Chapter of which she served in that capacity for four years.
She earned her Bachelor's Degree in Business Management from Pace University and her Master's Degree in Human Resources Education from Fordham University. Lastly and most importantly, she is married to a wonderful husband named Sidney and they are the happy parents of Brooklyn and Prince their beautiful Bernese Mountain Dogs.