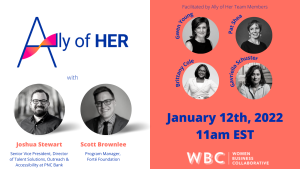 We are excited to have hosted our first WBC Ally of Her With event on January 12th, 2022 with special guests from PNC Bank and the Forté Foundation.
Joshua Stewart, Senior Vice President, Director of Talent Solutions, Outreach & Accessibility at PNC Bank, and Scott Brownlee, Program Manager at the Forté Foundation discussed the importance and impact of allyship initiatives to achieving gender equity in business. This special conversation was facilitated by the Ally of Her Team Members: Gwen Young, COO of WBC; Patricia Glaser Shea, Partner, Shea Advisory Services, LLC; Brittany Cole, CEO, Career Thrivers; and Gavriella Schuster, Founding Sponsor, Women in Cloud & Women in Technology Network.
Ally of Her is a WBC initiative to:
Engage and recognize more fully the men who are committed to the work in the WBC and have made the advancement of women a priority during their careers.
Recruit more men to the WBC and introduce our work on 9 action items.
Introduce the concept of Allies to others and provide information on how to be an Ally
or start an Ally corporate program.
Provide best practices and create better leaders.
Missed the live event? Watch the recording below!