2020 WBC Digital Summit: Weaving a Movement for Women in Business
October 1, 2020 -
October 2, 2020
7:00 pm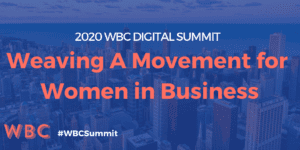 WBC hosted our first annual summit on October 1st and 2nd, 2020. The 2020 WBC Digital Summit: Weaving a Movement for Women in Business had over 900 registrants and more than 45 speakers and was filled with key insights into the position of women in business with an emphasis on our nine action initiatives.
View the program book here.
We presented three trailblazer awards to Senator Amy Klobuchar, Bonnie St. John, and Judee von Seldeneck for their leadership and ongoing support for women in business. We had the opportunity to hear from executive leadership at five Fortune 500 companies including Joaquin Duato, Vice Chair, Johnson & Johnson and award Bruce Broussard, President and CEO, Humana; Ann Cairns, Executive Vice Chair, Mastercard; Dave Ricks, Chair and CEO, Eli Lilly and Company; and Arne Sorenson, President and CEO, Marriott Internationalwith the CEO Award for Excellence in Gender and Diversity.
Missed Day 1? Watch the full event here!
Missed Day 2? Watch the full event here!
Watch individual panels below!
WBC Yesterday, Today, and Tomorrow
2020 WBC Digital Summit: Tech Leaders as Champions of Change
2020 WBC Digital Summit: Corporate Drivers of Change
2020 WBC Digital Summit: CEO Awardee Panel: Excellence in Gender and Diversity
2020 WBC Digital Summit: Executive Commitment to Gender & Diversity
2020 WBC Digital Summit: WBC Leaders: A Movement for Change
2020 WBC Digital Summit: WBC Advisors: A Movement for Change