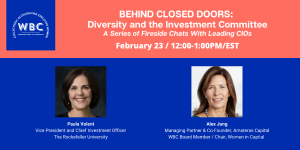 ABOUT THE SPEAKERS
PAULA J. VOLENT, CFA is Vice President and Chief Investment Officer at The Rockefeller University, the world's leading biomedical research university.  Prior to joining The Rockefeller University in August 2021. Ms. Volent served as Chief Investment Officer and Senior Vice President at Bowdoin College, a private, residential college in Brunswick, Maine. At Bowdoin, where she was responsible for the oversight and management of the College's endowment. Prior to joining Bowdoin in July 2000, Ms. Volent was a Senior Associate at the Yale Investments Office.
Ms. Volent has a BA from the University of New Hampshire; a Master's Degree in Art History from the Institute of Fine Arts at New York University; a Certificate in Conservation from the Conservation Center at NYU, with a specialization in the conservation of works of art on paper; and an MBA from the Yale School of Management. Prior to focusing on endowment management, Paula worked as a paper conservator at the New-York Historical Society, the San Francisco Palace of Fine Arts, the LA County Museum of Art, and the National Gallery of Art in Washington DC. She also ran a private paper conservation studio in Los Angeles, California. She serves on the Board of Directors of MSCI, Inc.; the Board of Directors of 1st Dibs; a member of the Investment Committee of the Pritzker Family Foundation, a member of the Advisory Board of Girls Who Invest, a Trustee of the Skowhegan School of Art and Painting, and an Investment Committee Member of the Rockefeller Foundation. She is also Vice Chair of the Yale School of Management Advisory Board, a member of the Milken Institute's Global Markets Advisory Council, a member of the Advisory Board of the Private Capital Research Institute and a member of the National Gallery of Art Investment Subcommittee.  In 2020 Barron's named Ms. Volent as one of the "100 most influential women in U.S. Finance."
ALEX JUNG is a global business leader and investor with over 25 years in the investment management and financial services sector, including executive leadership roles based in London and New York for Oak Hill Advisors, Goldman Sachs and Greywolf Capital. In addition to her deep global financial markets experience, she has extensive board experience with expertise in driving strategic change, business transformation, M&A, financing and restructuring across a diverse set of sectors internationally.Most recently Alexandra was a Partner and Head of European Investments at Oak Hill Advisors, in addition to global portfolio management responsibilities, Alexandra led the build out of the European business, serving as Chairman of European Oak Hill boards and management committees as well as serving on the Global Investment Strategy Committee, various fund Investment Committees and the firm's Valuation Committee. Alexandra currently serves on the Board of NVR Inc. (NYSE:NVR) and serves on the Advisory Board of several private companies
Alexandra has been an avid supporter of women investors and business owners. She was recognized by 100 Women in Finance as the recipient of the European Leadership Award and as one of 50 Leading Women in Hedge Funds by The Hedge Fund Journal.  She serves as a Trustee of Bucknell University. She is frequently quoted in Bloomberg and other financial press in addition to being a frequent speaker at industry leading conferences.  She holds an MBA from Kellogg and a B.A., cum laude, from Bucknell University. As a lover of surfing, boating, diving and all things ocean, she is passionate about marine conservation globally.