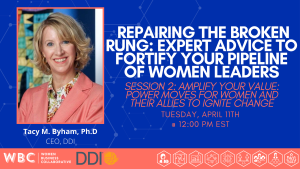 Join us for session 2 of our Broken Rung webinar series from the pipeline group. In this high-energy session on inclusion and women in leadership you'll learn about the role you play in accelerating gender equality in your company. Learn to leverage a range of tools from research to your personal power moves to find your power as a leader and amplify the impact of the women you coach & mentor!
Dr. Tacy Byham shares her personal journey, inspirational storytelling via four Power Moves – each with actionable tips – to disrupt individual mindsets and organizational processes to unleash the confidence and potential of women leaders.
Radiate Confidence
Declare Yourself
Fail Forward
Super Power Your Network
Gender equity in the workplace benefits everyone, and it starts with you, as you Amplify Your Value.
RSVP Here!