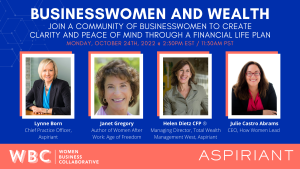 Money should be a vehicle to your vision of success, passion and pursuing your life dreams, bringing stability and peace of mind to you and your loved ones. Yet businesswomen continue to face unique obstacles and challenges in planning for a stable and secure financial life – the persistence of the gender pay gap, the greater share of responsibilities for childcare and aging parents, and the statistical fact of living longer than men – all of which require your capital to stretch farther. 
Women control over half of the personal wealth in the United States and are responsible for the majority of consumer spending. However, studies show women need to overcome life-long conditioning and a lack of confidence to educate and empower themselves through a long-term, intentional and focused financial plan. 
Using real-life stories and through practical application, join a community of businesswomen to explore, empower and learn about:
Creating your personal vision for a successful life

Defining your goals as the foundation to a long-term and stable financial plan

Understanding and taking advantage of investment opportunities in the context of your long-term financial goals and objectives 

Considering all available assets on your personal "Balance Sheet" – income and compensation possibilities; retirement planning; cash management; real estate holdings, etc. 

Navigating financial conversations with loved ones

Managing the life transitions women face – career trajectories, conversations with children about managing money or planning for aging parents 

Proactively planning for the unexpected 

Determine if you need a relationship with a financial planner and how to choose one
Our panelists include:
Registrants will have a special opportunity for a complimentary, one-on-one planning session with an Aspiriant wealth manager.