CEO Roundtable Series: Gender Equity and Leadership
November 18, 2020 -
November 18, 2020
7:00 pm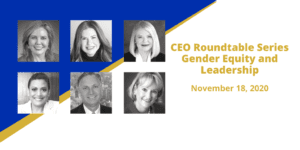 WBC hosted a CEO Roundtable Series: Gender Equity and Leadership on November 18, 2020. Participants tuned in to hear the stories of prominent leaders who are shepherding their organizations through the crisis, forging new norms that include innovative approaches to living and prospering.
The conversation featrued Co-Hosts Robert Reiss, CEO, The CEO Forum Group and Rebecca Shambaugh, President, SHAMBAUGH Leadership in their conversation with Gina Drosos, CEO, Signet Jewelers; Kara Goldin, Founder & CEO, Hint; Shoshana Grove, CEO, International Bridge and Stacey D. Stewart, President and CEO, March of Dimes.
Missed the event? Watch the recording here!