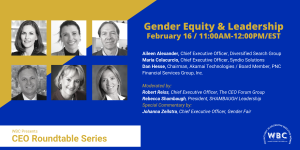 The CEO Roundtable Series – "Gender Equity & Leadership" took place on February 16th. This special panel of executives discussed the importance of leading with a gendered lens, and how to incorporate gender equity practices into our workplaces.
Featured speakers included Aileen Alexander, Chief Executive Officer, Diversified Search Group; Maria Colacurcio, Chief Executive Officer, Syndio Solutions and Dan Hesse, Chairman, Akamai Technologies / Board Member, PNC Financial Services Group, Inc. The session was moderated by Robert Reiss, Chief Executive Officer, The CEO Forum Group and Rebecca Shambaugh, President, SHAMBAUGH Leadership. Special commentary provided by Johanna Zeilstra, Chief Executive Officer, Gender Fair.
Click below to watch the recording!