The Power of Peer Community: How We Can Help Increase the Participation of Women on Boards
March 10, 2021 -
March 10, 2021
7:00 pm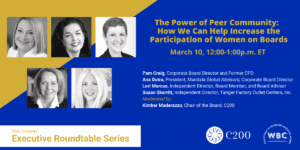 C200, Equilar, and the Pepperdine Center for Women in Leadership announce the development of an upcoming report that will take an in-depth look at how a woman's social network has the potential to lead to more women acquiring board appointments, how some women are already utilizing their social networks for this, and why more women should consider this approach.
Relationships matter. If you want to be on a board, you need to get yourself in the right circles. 92% of board seats are filled through networking. Traditionally, men have used social networks with great success as a means to acquire board seats.  This is known as the "in-group/out-group" phenomenon in which people favor in-group members over out-group members. This bias has led to the repeated selection of men for board seats and has, for the most part, been exclusionary for women.
What can we do to change the equation? How can women expand and use their social networks to their advantage just as men have?
This is a call to action for all WBC organizations to strengthen the peer community and advocate for more women to get on boards. In its 40-year history, C200 has been a peer community of women advocating for the advancement of women in business. Hear from C200 members how the C200 peer community shaped them in preparation for and helped them secure board seats and what they are doing to help advance others.
Missed the live event? Find the recording here!