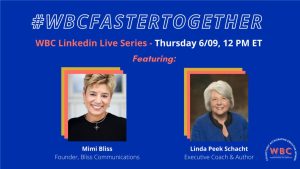 On June 9th, we hosted the #WBCFasterTogether LinkedIn Live series with Mimi Bliss, founder of Bliss Communications and she will share actionable skills for making a business presentation, talking to a news reporter, or speaking to an audience–in person and in a virtual environment.
This conversation with Linda Peek Schacht is our monthly look at the power of women's vision and voice.
Watch the recording below!