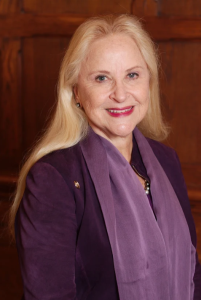 Larraine Segil
Larraine Segil is a seasoned Entrepreneurial Executive and an
experienced public and private Corporate Board Director with
general Management experience. She is Founder, Chair and
CEO of the non-profit public benefit corporation, The Exceptional
Women Awardees Foundation, a proprietary, metrics driven,
software-based, executive coaching & mentoring collaborative,
enabling high level, high potential women to reach their dreams in
over 30 different industries.
Ms. Segil was formerly an Owner and Director of Vantage Partners,
which evolved out of the Harvard Project on Negotiation. It's
Partners/Directors have authored many books including Getting to
Yes and Difficult Conversations. Ms. Segil has served Global 100
and Fortune 500 companies, assisting them to create and manage
their critical business relationships with suppliers, customers,
alliances, joint ventures or channel partners.
She is former CEO/Co-founder of several entrepreneurial
companies which include Advanced Materials, a privately held
company providing products and services to aerospace and
electronics manufacturers worldwide; as well as the privately held
chain, Airport Urgent Care, providing free standing ambulatory
health care clinics at airports within the Southwestern region of
the United States.
Ms. Segil has also served on the Tropical Diseases Special Advisory
Group on Alliances (SAAG), in Kuwait and Geneva for
UNICEF/UNDP/World Bank/World Health Organization (WHO)
from 2009-2012.
Additionally, Ms. Segil has taught a two-day program on Global
Alliances for Executive Education for over twenty-four years at
The California Institute of Technology (Caltech).
Ms. Segil is a licensed attorney admitted to practice in both the
State of California and the United States Supreme Court.
Ms. Segil's roles also include serving as Nom, Gov and Comp Chair
for Calprivate Bank (OTC:PBAM), the National Association of
Corporate Directors (NACD) Pacific Southwest as Chair of
Nominating and Governance; she is now Board Emerita. She is on
the International Advisory Board for APCO Worldwide since 2009,
Member of the Board at Pepperdine, Graziadio School of Business,
and Board Emerita at UCLA, Anderson School of Business. She has
served on the Board of Frontier Communications (NASDAQ:FTR)
from 2005-2017, Audit, Nominating/Governance, Compensation,
and Retirement committees. She served as Chairman of the Board
at Kandela, Inc. until the company was sold in April 2019. Ms. Segil
served on the Board of Vanir Construction Management's Audit
and Nominating committees until April 2018 and as a member of
the Board of Trustees for Southwestern School of Law from 2008-
2019. Larraine is the past Chair of the Committee of 200
Foundation and the Vice Chair of the C200 Governing Board and is
a Founding Member of Paradigm for Parity and a Member of the
Fast Company Impact Council.
Larraine is an accomplished author, keynote speaker, and expert in
the area of Strategic Alliances and Leadership having written and
published five business books which include, Measuring the Value
of Partnering, Partnering: The New Face of Leadership, Intelligent
Business Alliances: Dynamic Leader Adaptive Organization and
Fast Alliances: Power your E-Business, in addition to a fictional
novel entitled Belonging.