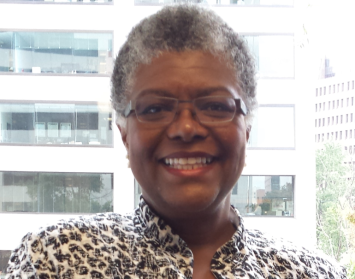 Joanne Dowdell
Senior Vice President
Newscorp
Joanne joined News Corp in July 2014 as Senior Vice President for Global Government Affairs. She is responsible for monitoring state and federal legislative and regulatory activity on First Amendment, tax, copyright and data privacy matters.
Joanne lived in DC for more than 20 years before moving to New Hampshire, and for six of those years, she ran Congressional Quarterly's Professional Education Service.
Prior to joining News Corp, Joanne was active in New Hampshire politics and in 2011 she was the first African-American woman to run for Congress in New Hampshire's 1st Congressional District. In 2012, Joanne was one of the four members of the Electoral College and the first African-American in the state to earn that distinction.
She currently serves on the board of Green America and is a member of News Corp's Global Environment Initiative. She has served on the board of directors of USSIF, the New Hampshire Humanities Council, vice-chair of Volunteer New Hampshire, and as a member of the State Advisory Committee of the U.S. Commission on Civil Rights. She is an At-Large member of the Democratic National Committee.
Joanne earned a B.A. from Howard University's School of Communications.