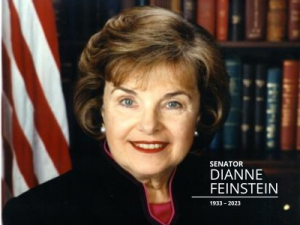 Women Business Collaborative joins our Nation in pausing to remember The Honorable Dianne Feinstein and her lifetime of service in the public interest. 
When Dianne Feinstein ran for Mayor of San Francisco, her campaign slogan was "Forged in tragedy, forged in steel." There was no better way to describe this dynamic, trailblazing woman, and there is no better way for us to remember her.
The first Jewish woman to serve in the United States Senate, Senator Feinstein's rise in politics began when she was thrust into the spotlight following the assassination of San Francisco Mayor George Moscone and Supervisor Harvey Milk. She would go on to lead the City by the Bay as its 37th Mayor for nine years, during which time she was on the short list to become Walter Mondale's Vice Presidential running mate in 1984.
Elected to the United States Senate in 1992, Senator Feinstein served her state and our Nation for over 30 years as a titan for women's rights, standing up as a voice and an example for what we can achieve when glass ceilings are shattered.
Despite her health challenges, Senator Feinstein cast her final vote in the Senate yesterday on the continuing resolution to keep our nation's government funded. That's the way she would have wanted it, ending her career as it began – ensuring the welfare of our Nation and its citizens. As we pause to mourn her passing, Women Business Collaborative reaffirms our commitment to continue advancing our shared causes in honor of the trailblazing legacy that she has left."
Gwen K. Young
CEO
---
Senator Dianne Feinstein was an icon and on behalf of WBC and all our friends, we stop to honor her today. The Senator exemplified distinguished leadership and an unwavering commitment to public service, having seamlessly transitioned from her role as Mayor of San Francisco to United States Senator, with dedication, compassion, and resilience, particularly in her pursuit of justice and support for women's rights. Thousands, including myself, loved her and are proud to call her a friend and a true public servant, reflecting on her extensive contribution to the welfare of the nation. Her legacy of integrity and advocacy will be remembered as a beacon of inspiration, reflecting her commitment, courage, and compassion. The profound impact of her service will resonate perpetually."
Edie Fraser
Chair of the Board