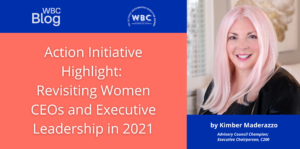 Every day, there are more women executives and business owners. From small businesses to Fortune 500 and everything in between, the data clearly shows that women are advancing  to leadership roles in business.
With all of the good news about more women advancing in leadership roles, the bad news is that progress still leaves a lot to be desired.  For example, women today lead 40 of the Fortune 500 companies. This includes the 2021 appointments of Jane Fraser (Citibank), Karen Lynch (CVS), and Lauren Hobart (Dicks Sporting Goods) which will ensure 10% of Fortune 500 CEOs are women by the end of 2021. Last I checked, women make up about half of the population, therefore it is surprising that we remain drastically underrepresented as CEOs.
Fixing this problem has become a passion of mine.  That's why I jumped at the chance to team up with some leading organizations to create a comprehensive report that outlines the current state of women in the top echelon of leadership roles. The Women CEOs in America Report 2020 is the first report of its kind. The criticality of the senior pipeline and the scarcity of diversity in the CEO ranks are clear. The report includes data and economic perspectives from experts and an assessment of the executive suite pipeline to assure the upward mobility to CEO roles. By making accessible the numbers, profiles, and assessment of where women are across public and private businesses, the report and its monitoring is a critical tool for understanding women's leadership across businesses in America.  Led by the Women Business Collaborative (WBC), an alliance dedicated to building a movement to rapidly change the numbers of women in leadership positions, C200, a global nonprofit for women business leaders dedicated to educating and advancing women in business, and Catalyst, a global nonprofit that accelerates women's leadership, we worked together to collect data from both the public and private sector.  We wanted to obtain a better understanding of how women are represented today in CEO roles so that we can share that information with the larger business community and gain buy in for accelerating the pace of change. As a co-chair of the WBC's Action Initiative focused on CEO Leadership and Sponsorship of Women CEOs, I am part of a team dedicated to making this work essential to our overall mission for parity and empowerment.
As the Chairperson (and a longtime member) of C200, I have seen firsthand how women have the power to lift each other up.  Our mission is to advance women in business, and we have several programs specifically designed to support women on their career trajectories at different phases.
My goal is to show that when women are intentional about helping other women, it makes a difference.
Unfortunately, there can be a big gap between intention and impact.  Many women have nothing but the best intentions for helping female peers on their journey up the corporate ladder. However, thinking good thoughts and taking action lead to totally different results.  It's time to go beyond just hoping and wishing that we reach gender parity quickly.  We need to take action.  I challenge everyone reading this to do just a little more.
What can you do today to help another woman in her career?  Can you make an introduction, talk up a female colleague in a meeting, or reconnect with an old contact and ask how she's doing?  You could also share some of the stories and stats featured in Women CEOs in America to highlight the progress and opportunities for the continued advancement of female leaders.  These efforts don't take much time, but they can make a huge impact, especially if more and more women take consistent action. It's a new year and each day we as business leaders should wake up and say, "how am I going to make a difference in a woman's life today?", We need to create the opportunities for them to move up, not out. The pathway to the executive suite is not written anywhere. We as business leaders need to open the pathway and guide women through it.
We have a long way to go before we see equity and equality in the C-Suite and boardrooms.  But as women leaders, the onus falls on us to ensure the next generation has equal access to opportunity in business.