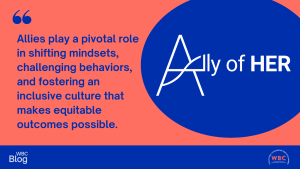 Written by Brittany Cole on behalf of the WBC Ally of Her team
Allyship is a critical success factor to achieve equal position, pay and power for all women in business. In the Deloitte 2019 State of Inclusion Survey, allyship was noted as "a missing link for organizations to take the next step in truly embedding inclusion into the everyday experiences of their people."
Today, we know that many organizations have made strong commitments to advancing gender equity and research shows that allyship is a practice that can help sustain progress in the recruitment, retention, and leadership representation of women in business. Allies play a pivotal role in shifting mindsets, challenging behaviors, and fostering an inclusive culture that makes equitable outcomes possible.
What is an ally?
An ally is recognized by a community as someone that is engaged in learning, advocating, and sharing their power to take action to advance the inclusion and equity of that community. 
Being an ally requires the self-awareness to identify our place of privilege and power in order to use it to advocate for those with less. 
Everyone has the ability to be an ally, and since privilege is intersectional, men can be allies to women, white women can be allies to women of color, able-bodied women can be allies to those with different abilities, cis women can be allies to members of the LGBTQIA+ community, etc.
Allyship is a lifelong process that requires both awareness and action. Allyship is a journey of learning, un-learning, and re-learning as we contribute to advancing all women in business.
Through our WBC, Ally of Her initiative, we have an opportunity to engage and learn about ways that men, who are allies to the work of the WBC, are making an impact in the advancement of women business leaders at their organization.
Allyship is critical for each of our 9 WBC Action Initiatives to advance executive women leaders in business, the representation of women in business, and equity for all women in business.
Here are some actions of A.L.L.I.E.S. that you can implement to advance the leadership representation, inclusion, and equity for women in business:
A – Awareness:  Emotional intelligence is critical for allyship. Unconscious bias is a barrier to equity that can be improved through awareness and behavior change. We all have biases. Challenge yourself to make your unconscious bias, conscious. "Why do I think that" is a great question to be more self-aware when thoughts enter your mind about other people. 
L – Learning: There is a plethora of accessible information on ways to advance gender equity. As an ally of her, be proactive with your learning journey. It's great to listen and ask questions, but do this as you are also doing your own research on ways to remain engaged in this work. 
L – Listening: Actively listen to understand the experiences of all women in business. Suppress the urge to make assumptions or counter with your experiences or justifications. Listen to what women are saying and to what isn't being said. Listen more than you speak and be intentional about adding your voice with – not in place of – all women as an advocate for change.
I – Inclusion: Diversity is a fact. Inclusion is an act. Equity is in the stats. How are you intentional in your effort to incorporate difference? As leaders, having diversity in your organization is a pit stop along the journey towards equity. Diversity (difference) is all around us. Even if your organization needs to attract more diversity, the real question is, how are you cultivating a culture of inclusion where everyone believes they belong, so you retain the diverse leaders you want to attract. 
E – Experiences: Consider your professional and even personal experiences with women from an intersectional lens. How intentional are you in understanding the breadth and depth of needs, experiences, and challenges women face to advance in their careers and business? 
S – Sponsorship: Use your power and privilege to go beyond mentoring women. Sponsorship allows you the opportunity to connect your performance and relationship capital with a woman in business to accelerate her leadership trajectory and improve the inclusion and equity at your organization. How do you speak up, invest in, and create opportunities for women to achieve equal pay, position, and power?
This is allyship in action.
Awareness, learning, listening, inclusion, experiences, and sponsorship are the actions of allies that will create meaningful change in our corporations, non-profits, small businesses, and even our government.  
Your awareness and action are necessary. 
Every day we have an opportunity to practice allyship. 
Every experience is an opportunity for continuous improvement towards gender equity.
Become an ally of her today and let's work together – as men and women leaders – to advance all women in business.
Join us on January 12th at 11am for our first event: Ally of Her With PNC Bank and the Forté Foundation. Register here!