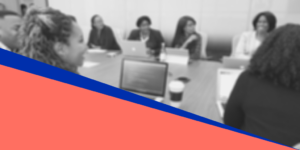 According to the U.S. Census Bureau, women of color make up 39% of the nation's female population and 20% of the entire U.S. population. According to the global non-profit research firm, Catalyst, women of color will be the majority in the workplace by 2060. Women of color generate $1 trillion as consumers and $361 billion in revenues as entrepreneurs, starting companies at four times the rate of all women-owned businesses (Bentley University Intersectionality in the Workplace: Broadening the Lens of Inclusion, 2019). And yet the reality of women of color's representation in all areas of business is glaringly uneven. This brief provides an overview of why DE&I efforts are a passionate focus for WBC.
Why focus on DE&I?
Women of color make up 18% of entry level jobs, 12 percentage points lower than white women (McKinsey/LeanIn 2019)
For every 100 entry-level men who are promoted to manager, 68 Latinas and 58 black women are promoted (McKinsey/LeanIn 2019)
Women of color are more likely to report sexual harassment at work, according to a 2019 study published in the journal Gender, Work and Organization
Black women get the least support from their managers and feel they are often unfairly passed up for better opportunities (McKinsey/LeanIn 2019)
Citing various resources, Entrepreneur's Nina Zipkin reported in 2019 that black women founders have gotten just .0006% of VC money since 2009
Less than 2% of Fortune 500 companies are led by women of color, none of whom are African or Asian American
Women of color make up 4% of the C-suite (World Economic Forum)
The percentage of 2018 F500 board seats occupied by African American and Hispanic women respectively was 3% and 0.8%
Our Goals
So what can we do? We've partnered with an incredible group of organizations to drive change: C200; Diversity Best Practices; Diversity Woman Media; LATINAStyle; The Executive Leadership Council (ELC).
Together, we will work to develop a multi-channel communications and education campaign to promote the accelerator goals across all of the WBC action initiatives that focus on achieving 25% women of color in management and leadership roles, showcase organizations that are advancing women of color, and more.
We believe that through these actions we can see:
25% of women in the c-suite are women of color by 2030
25% of women CEO's are women of color by 2030
25% of R3000 women board members are women of color by 2030