April 2021 Report Summary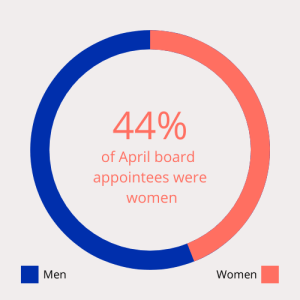 April 2021 Women Joining Public Boards Report at Record Level– April 44% Percent of Women Appointees after past six months averaging 40%; 21.8 % women of color in April
The number of women appointed to public boards rose in April 2021. In April, women comprised 44% of all public board appointments: public companies appointed 147 women and 87 men to their boards. The women appointed continue to identify as diverse with 32 women in April identifying as diverse. 17 of the 32 women, 53.12%, identified as African American, closely followed by 9 Asian/Pacific Islanders, 5 women identifying as Hispanic and 1 woman identifying as Middle Eastern/North African. The New York Times, Broadway Financial Corporation and BioLife Solutions, are some of the companies that appointed diverse women to their board. This trend towards including diverse voices in leadership is one that continues.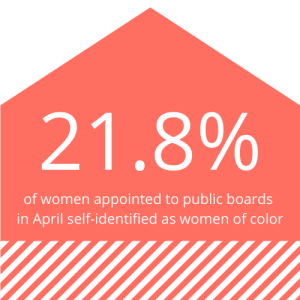 During our April 27th Executive Roundtable, "Flipping the Script on Private Company Board Diversity" co-hosted with our partners at Bolster, experts covered the important role Independent Directors play on private company boards – and how we can ensure more diversity on private company boards. Fabrice Houdart, Managing Director, Global Equity Initiatives, Out Leadership, commented, "we need to start asking and supporting diverse individuals so they can be tracked. What is not measured, is not achieved."
Of the 147 women appointed to the boards of public companies, 88 were first time board appointments. Some of these first time board appointments hold board seats at Expedia Group, Inc. and Wilhelmina International, Inc. We will continue to watch and monitor this trend to ensure that the number of women occupying board seats across all industries continues to grow and the pipeline strong.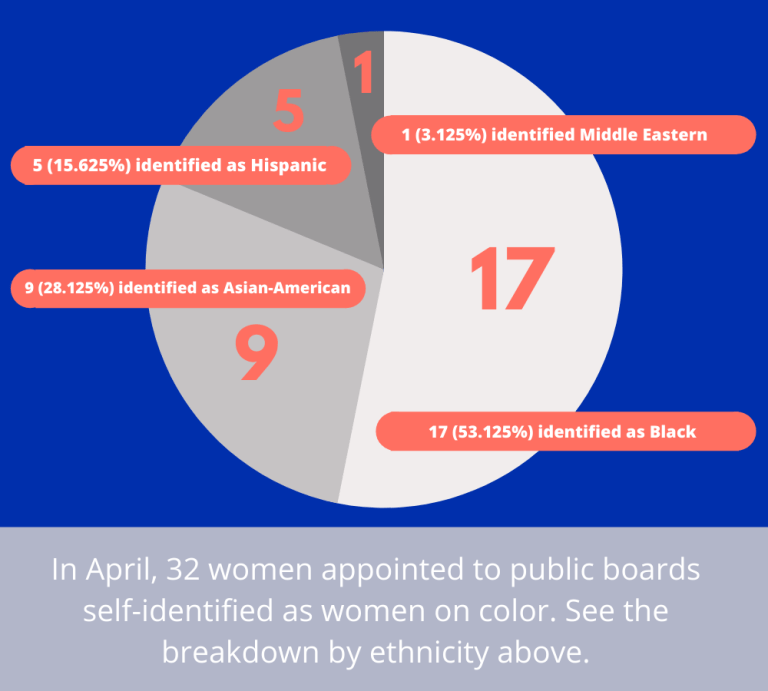 In April, healthcare companies led the way in the appointment of women followed by industrials and financial services with 14.2% of women filling board seats at industrial companies. In the financial services sector we see companies like Signature Bank and Lemonade Inc taking steps to appoint women.
The overall trends across companies continue to rise breaking the recent 40% mark and with up to 25% of the women identifying as women of color. Equilar and WBC are tracking and analyzing the growth and rotation of board seats and the expanding candidate pool. We will continue to track not only the women in terms of numbers, diversity and profile; but the companies and industries in which female board members are present and how many of the overall board seats are held by women. The time is now for women to sit across all companies, boards, and sectors. Please, join us in celebrating, tracking, analyzing, and promoting women on boards of public companies.
Company
Title
Ethnicity
Second Sight Medical Products, Inc.Alexandra Larson
Gates Industrial Corporation plc
Alicia L. Tillman
BioLife Solutions, Inc.
Amy DuRoss
Gaia, Inc.
Anaal Udaybabu
Asian / Pacific Islander
Dover Motorsports, Inc.
Anastasia Thomas Nardangeli
Origin Bancorp, Inc.
Andrea La'Verne Edney
Black / African American
Diodes Incorporated
Angie Chen Button
Asian / Pacific Islander
Bonanza Creek Energy, Inc.
Audrey Robertson
BlackLine, Inc.
Barbara Whye
Black / African American
SunPower Corporation
Bernadette Baudier
The New York Times Company
Beth A. Brooke
Antero Resources Corporation
Brenda R. Schroer
Plymouth Industrial REIT, Inc.
Caitlin Murphy
Barrett Business Services, Inc.
Carla A. Moradi
Daseke, Inc.
Catharine D. Ellingsen
SiTime Corporation
Christine A. Heckart
Reata Pharmaceuticals, Inc.
Christy J. Oliger
AppHarvest, Inc.
Ciara A. Burnham
LTC Properties, Inc.
Cornelia Cheng
Asian / Pacific Islander
JELD-WEN Holding, Inc.
Cynthia Marshall
Black / African American
Intercept Pharmaceuticals, Inc.
Dagmar Rosa-Bjorkeson
Hispanic / Latino
America's Car-Mart, Inc.
Dawn C. Morris
DuPont de Nemours, Inc.
Deanna M. Mulligan
PAVmed Inc.
Debra J. White
Dow Inc.
Debra L. Dial
PAE Incorporated
Delara Zarrabi
1-800-FLOWERS.COM, Inc.
Dina M. Colombo
Lineage Cell Therapeutics, Inc.
Dipti Amin
Amerant Bancorp Inc.
Dolores M. Lare
Douglas Emmett, Inc.
Dorene C. Dominguez
Hispanic / Latino
Lazard Ltd
Dr. Ann-Kristin Achleitner
Predictive Oncology Inc.
Dr. Christina Lee Jenkins MD
Intellia Therapeutics, Inc.
Dr. Georgia Keresty
Metacrine, Inc.
Dr. Julia C. Owens Ph.D.
Abeona Therapeutics Inc.
Dr. Leila Alland M.D.
Eagle Pharmaceuticals, Inc.
Dr. Luciana Borio M.D.
Hispanic / Latino
Intuitive Surgical, Inc.
Dr. Monica P. Reed M.D.
Black / African American
Abiomed, Inc.
Dr. Paula Adina Johnson M.D.
Black / African American
Triple-S Management Corporation
Dr. Roberta Herman M.D.
Akero Therapeutics, Inc.
Dr. Yuan Xu Ph.D.
Asian / Pacific Islander
Intersect ENT, Inc.
Elisabeth A. Sandoval
IES Holdings, Inc., Valaris Limited
Elizabeth Darst Leykum
AAR Corp.
Ellen M. Lord
Seaboard Corporation
Frances B. Shifman
Custom Truck One Source, Inc.
Georgia R. Nelson
Roblox Corporation
Gina Mastantuono
SI-BONE, Inc.
Helen Loh
Asian / Pacific Islander
Citizens & Northern Corporation
Helen Santiago
QuinStreet, Inc.
Hillary B. Smith
Community Trust Bancorp, Inc.
Ina Michelle Matthews
PS Business Parks, Inc.
Irene H. Oh
Lemonade, Inc.
Irina Novoselsky
CymaBay Therapeutics, Inc.
Janet Dorling
Contango Oil & Gas Company
Janet W. Pasque
Cars.com Inc.
Jenell R. Ross
Black / African American
Power Integrations, Inc.
Jennifer A. Lloyd
The Goldman Sachs Group, Inc.
Jessica Uhl
Sensei Biotherapeutics, Inc.
Jessie English
Aspen Technology, Inc.
Jill D. Smith
Spectrum Brands Holdings, Inc.
Joan Chow
Pilgrim's Pride Corporation
Joanita Karoleski
VistaGen Therapeutics, Inc.
Joanne Curley
Virtu Financial, Inc.
Joanne M. Minieri
Tilray, Inc.
Jodi L. Butts
Chuy's Holdings, Inc.
Jody L. Bilney
Neurocrine Biosciences, Inc.
Johanna Mercier
Evelo Biosciences, Inc.
Julie H. McHugh
Rambus Inc.
Karen Rogge
Contango Oil & Gas Company
Karen Simon
The Goodyear Tire & Rubber Company
Karla R. Lewis
Lydall, Inc.
Katherine Carolyn Harper
W.W. Grainger, Inc.
Katherine D. Jaspon
Select Medical Holdings Corporation
Katherine Davisson
Employers Holdings, Inc.
Katherine H. Antonello
AgroFresh Solutions, Inc.
Kay Kuenker
Duke Realty Corporation
Kelly T. Killingsworth
Eiger BioPharmaceuticals, Inc.
Kim Sablich
Wrap Technologies, Inc.
Kimberly C. Sentovich
Sunstone Hotel Investors, Inc.
Kristina M. Leslie
SI-BONE, Inc.
Laura A. Francis
Titan International, Inc.
Laura K. Thompson
Quanterix Corporation
Laurie J. Olson
Sinclair Broadcast Group, Inc.
Laurie R. Beyer
ChannelAdvisor Corporation
Linda M. Crawford
West Bancorporation, Inc.
Lisa J. Elming
Old Republic International Corporation
Lisa Jeffries Caldwell
Washington Trust Bancorp, Inc.
Lisa M. Stanton
EchoStar Corporation
Lisa W. Hershman
Loop Industries, Inc.
Louise S. Sams
Keurig Dr Pepper Inc.
Lubomira Rochet
Q2 Holdings, Inc.
Lynn Antipas Tyson
Signature Bank
Maggie Timoney
The Bank of New York Mellon Corporation
Marguerite Amy Gilliland
Zions Bancorporation, National Association
Maria Contreras-Sweet
Hispanic / Latino
Ikena Oncology, Inc.
Maria Koehler M.D., Ph.D.
Broadway Financial Corporation
Marie C. Johns
Black / African American
Sequential Brands Group, Inc.
Marjorie L. Bowen
Broadway Financial Corporation
Mary Ann Donovan
PAE Incorporated
Mary M. Jackson
Wilhelmina International, Inc.
Maya Burkenroad
La-Z-Boy Incorporated
Melinda D. Whittington
Aptiv PLC
Merit E. Janow
Praxis Precision Medicines, Inc.
Merit Ester Cudkowicz
Origin Bancorp, Inc.
Meryl Kennedy Farr
H&R Block, Inc.
Mia F. Mends
Black / African American
Beam Global
Nancy C. Floyd
Icahn Enterprises L.P.
Nancy Martori Dunlap
Hostess Brands, Inc.
Olufunlayo Olurinde Fajemirokun-Beck
Expedia Group, Inc.
Patricia Menendez-Cambo
Hispanic / Latino
Vroom, Inc.
Paula Pretlow
Black / African American
Sabre Corporation
Phyllis W. Newhouse
Black / African American
Ebix, Inc.
Priyanka Kaul
Asian / Pacific Islander
BioLife Solutions, Inc.
Rachel Ellingson
INVO Bioscience, Inc.
Rebecca Messina
Tilray, Inc.
Renah Persofsky
Rocky Brands, Inc.
Robyn R. Hahn
1st Source Corporation
Ronda Shrewsbury Weybright
Steelcase Inc.
Sara Elizabeth Armbruster
Bank of Marin Bancorp
Secil Tabli Watson
Asian / Pacific Islander
Reata Pharmaceuticals, Inc.
Shamim Ruff
Howmet Aerospace Inc.
Sharon R. Barner
Black / African American
Cedar Realty Trust, Inc.
Sharon Stern
Akamai Technologies, Inc.
Sharon Y. Bowen
Black / African American
Integra LifeSciences Holdings Corporation
Shaundra Clay
DSP Group, Inc.
Shira Fayans-Birenbaum
Middle Eastern / North African
SeaSpine Holdings Corporation
Shweta Maniar
Asian / Pacific Islander
ADT Inc.
Sigal Zarmi
Lemonade, Inc.
Silvija Martincevic
Dare Bioscience, Inc.
Sophia Nnenna Ononye-Onyia
Black / African American
TechnipFMC plc
Sophie Zurquiyah-Rousset
ModivCare Inc.
Stacy Saal
Nielsen Holdings plc
Stephanie Plaines
Black / African American
Morphic Holding, Inc.
Susannah Gray
Kintara Therapeutics, Inc.
Tamara A. Seymour
JELD-WEN Holding, Inc.
Tracey Irene Joubert
NuZee, Inc.
Tracy Ging
StepStone Group Inc.
Valerie Gay Brown
Kimball International, Inc.
Valerie R. Love
Black / African American
Sunstone Hotel Investors, Inc.
Verett Mims
Black / African American
A. O. Smith Corporation
Victoria M. Holt
Chimerix, Inc.
Victoria Vakiener
Sabre Corporation
Wendi Sturgis
Moxian, Inc.
Yahui Zhao
Olema Pharmaceuticals, Inc.
Yi Larson
Turtle Beach Corporation
Yie-Hsin Hung
Asian / Pacific Islander
Voya Financial, Inc.
Yvette S. Butler
Black / African American