January 2021 Report Summary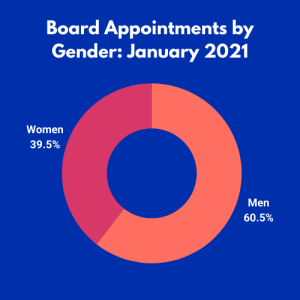 The 40% Trend Continues
2021 is starting off positive, with women comprising 39.5% of board appointments. This continues a five-month trend where women are, on average, 39.8% of appointments to board seats of public companies. This rise coincides with a rise in women CEOs of Fortune 500 companies to 8.4%, with Rosalind Brewer's appointment (Board, Starbucks) to CEO of Walgreens Boots.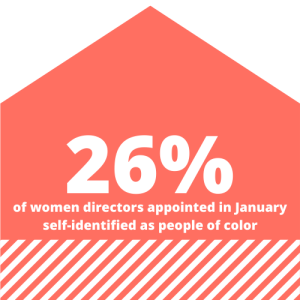 In January, public companies appointed 141 women and 216 men to their boards. Notably, 87 of the 141 women are first-time board appointees. This is critical as it brings the overall number of women holding public board seats up and indicates that the pipeline is expanding.
Public companies continue to focus on diversity, with 37 of the women identifying as women of color. Of this 45% or 17 of the women appointed identified as African American, with 11 identifying as Asian-American. This reflects trends in previous months, but in January, women identifying as Hispanic comprised 20.5%, up from under 15% in previous months.
In January, healthcare companies lead the way in the appointments of women followed by financial services, where 15.4% of the companies appointing women included companies such as First United, appointing two women, and Prudential.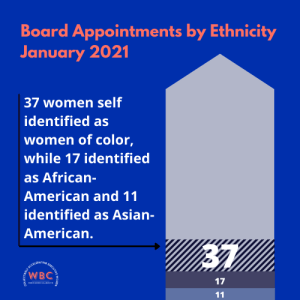 The overall trends across companies show growth for the number of women and people of color appointed to public companies' boards. This trend is also matched with a rise in the number of appointees who are "first-time" board members. Equilar and WBC are tracking and analyzing the growth and rotation of board seats and the expanding candidate pool.
We will continue to track not only the women in terms of numbers, diversity and profile; but the companies and industries in which female board members are present and how many of the overall board seats are held by women. The time is now for women to sit across all companies, boards, and sectors. Please, join us in celebrating, tracking, analyzing, and promoting women on boards of public companies.
Company
Title
Industry
Ethnicity
American Campus Communities, Inc.
Alison Hill
Real Estate
PVH Corp.
Allison Peterson
Consumer Cyclical
AppHarvest, Inc.
Anna Mason
Consumer Defensive
DZS Inc.
Barbara Carbone
Technology
Nexstar Media Group, Inc.
Bernadette S. Aulestia
Communication Services
Hispanic / Latino
PagerDuty, Inc.
Bonita Coleman Stewart
Energy
Black / African American
Cidara Therapeutics, Inc.
Carin Canale-Theakston
Healthcare
Extraction Oil & Gas, Inc.
Carrie M Fox
Energy
Lake Shore Bancorp, Inc.
Catharine M. Young
Financial Services
Sabra Health Care REIT, Inc.
Catherine Cusack
Real Estate
Target Corporation
Christine A. Leahy
Consumer Defensive
First United Corporation
Christy DiPietro
Financial Services
Accolade, Inc.
Cindy R. Kent
Healthcare
Black / African American
AVEO Pharmaceuticals, Inc.
Corinne Epperly
Healthcare
WEC Energy Group, Inc.
Cristina A. Garcia-Thomas
Utilities
Hispanic / Latino
Protara Therapeutics, Inc.
Cynthia Smith
Healthcare
Shore Bancshares, Inc.
Dawn M. Willey
Financial Services
Tactile Systems Technology, Inc.
Deepti Jain
Healthcare
Asian / Pacific Islander
Atlanticus Holdings Corporation
Denise M. Harrod
Financial Services
Regulus Therapeutics Inc.
Dr Alice Shih-hou Huang Ph.D.
Healthcare
Krystal Biotech, Inc.
Dr Jing L. Marantz M.D., Ph.D.
Healthcare
Galecto, Inc.
Dr. Anne Prener M.D., Ph.D.
Healthcare
Cidara Therapeutics, Inc.
Dr. Bonnie L. Bassler Ph.D
Healthcare
STAAR Surgical Company
Dr. Elizabeth Yeu
Healthcare
Maxar Technologies Inc.
Dr. Heather A. Wilson
Technology
STAAR Surgical Company
Dr. K. Peony Yu M.D.
Healthcare
AnaptysBio, Inc.
Dr. Magda Marquet
Healthcare
Gentherm Incorporated
Elizabeth Meter
Consumer Cyclical
NortonLifeLock Inc.
Emily Heath
Technology
Unifi, Inc.
Emma S. Battle
Consumer Cyclical
Black / African American
Calavo Growers, Inc.
Farha Aslam
Consumer Defensive
New Senior Investment Group Inc.
Frances Aldrich Sevilla-Sacasa
Real Estate
Hispanic / Latino
Tejon Ranch Co.
Frawn Morgan
Industrials
Eli Lilly and Company
Gabrielle Sulzberger
Healthcare
Black / African American
DURECT Corporation
Gail J. Maderis
Healthcare
Grocery Outlet Holding Corp.
Gail Moody-Byrd
Consumer Defensive
Black / African American
Winmark Corporation
Gina De Caro Sprenger
Consumer Cyclical
United Natural Foods, Inc.
Gloria R. Boyland
Consumer Defensive
Black / African American
First Community Bankshares, Inc.
Harriet B. Price
Financial Services
Venator Materials PLC
Heike van de Kerkhof
Basic Materials
Mimecast Limited
Helene Auriol Potier
Technology
The Chefs' Warehouse, Inc.
Ivy Brown
Consumer Defensive
Ondas Holdings Inc.
Jaspreet K. Sood
Technology
Avidity Biosciences, Inc.
Jean Jinsun Kim
Healthcare
IPG Photonics Corporation
Jeanmarie F. Desmond
Technology
Sirius XM Holdings Inc.
Jennifer C. Witz
Communication Services
Ooma, Inc.
Jenny C. Yeh
Communication Services
Parker-Hannifin Corporation
Jillian C. Evanko
Industrials
Atlanticus Holdings Corporation
Joann G. Jones
Financial Services
KB Home
Jodeen A. Kozlak
Consumer Cyclical
Tractor Supply Company
Joy Brown
Consumer Cyclical
Black / African American
HP Inc.
Judith A. Miscik
Technology
The Kroger Co.
Judith Amanda Sourry Knox
Consumer Defensive
Cadence Design Systems, Inc.
Julia Liuson
Technology
Asian / Pacific Islander
Duck Creek Technologies, Inc.
Julie Dodd
Technology
Workiva Inc.
Julie Iskow
Technology
Keurig Dr Pepper Inc.
Juliette Hickman
Consumer Defensive
Schneider National, Inc.
Jyoti Chopra
Industrials
Asian / Pacific Islander
Hudson Pacific Properties, Inc.
Karen Brodkin
Real Estate
Outset Medical, Inc.
Karen Drexler
Healthcare
Oceaneering International, Inc.
Karen H. Beachy
Energy
Northwest Natural Holding Company
Karen Lee
Utilities
Microchip Technology Incorporated
Karen Marie Rapp
Technology
Reliance Steel & Aluminum Co.
Karla R. Lewis
Basic Materials
Consolidated Edison, Inc.
Karol Mason
Utilities
Black / African American
Stratus Properties Inc.
Kate B. Henriksen
Real Estate
Beam Therapeutics Inc.
Kathleen Elizabeth Walsh
Healthcare
DHI Group, Inc.
Kathleen M. Swann
Industrials
Oceaneering International, Inc.
Kavitha Velusamy
Energy
Asian / Pacific Islander
Evolent Health, Inc.
Kim Keck
Healthcare
Investors Bancorp, Inc.
Kim Wales
Financial Services
U.S. Bancorp
Kimberly N. Ellison-Taylor
Financial Services
Black / African American
Glacier Bancorp, Inc.
Kristen Heck
Financial Services
Focus Financial Partners Inc.
Kristine Mashinsky
Financial Services
ExlService Holdings, Inc.
Kristy M. Pipes
Technology
IDEX Corporation
Lakecia N. Gunter
Industrials
Black / African American
Palantir Technologies Inc.
Lauren Elaina Friedman Stat
Technology
Delek US Holdings, Inc.
Laurie Z. Tolson
Energy
Gold Resource Corporation
Lila A. Manassa Murphy
Basic Materials
Hispanic / Latino
Stepan Company
Lorinda Burgess
Basic Materials
Quotient Technology Inc.
Lorraine Hariton
Communication Services
Curtiss-Wright Corporation
Lynn J. Bamford
Industrials
Oak Valley Bancorp
Lynn R. Dickerson
Financial Services
The Boeing Company
Lynne M. Doughtie
Industrials
Radius Health, Inc.
Machelle Sanders
Healthcare
Black / African American
Pluristem Therapeutics Inc.
Maital Shemesh-Rasmussen
Healthcare
Middle Eastern / North African
Grocery Outlet Holding Corp.
Maria Fernanda Mejia
Consumer Defensive
Hispanic / Latino
Steven Madden, Ltd.
Maria Teresa Kumar
Consumer Cyclical
Hispanic / Latino
Kronos Bio, Inc.
Marianne De Backer MSc, PhD, MBA
Healthcare
White / Caucasian
Priority Technology Holdings, Inc.
Marietta Davis
Technology
Black / African American
Chevron Corporation
Marillyn A. Hewson
Energy
AppHarvest, Inc.
Martha Stewart
Consumer Defensive
Petco Health and Wellness Company, Inc.
Mary Sullivan
Consumer Cyclical
FVCBankcorp, Inc.
Meena Krishnan
Financial Services
Asian / Pacific Islander
Sensus Healthcare, Inc.
Megan Cornish
Healthcare
Dream Finders Homes, Inc.
Megha H. Parekh
Consumer Cyclical
Rayonier Inc.
Meridee A. Moore
Real Estate
TransMedics Group, Inc.
Merilee Raines
Healthcare
Public Storage
Michelle Millstone-Shroff
Real Estate
Apple Inc.
Monica C. Lozano
Technology
Hispanic / Latino
Independence Realty Trust, Inc.
Ms. Lisa Washington
Real Estate
Devon Energy Corporation
Ms. Valerie Williams
Energy
Black / African American
Denali Therapeutics Inc.
Nancy Thornberry
Healthcare
Jupiter Wellness, Inc.
Nancy Torres Kaufman
Healthcare
IPG Photonics Corporation
Natalia Pavlova
Technology
Las Vegas Sands Corp.
Nora M. Jordan
Consumer Cyclical
FS Bancorp, Inc.
Pamela M. Andrews
Financial Services
Century Communities, Inc.
Patricia Arvielo
Consumer Cyclical
Hispanic / Latino
FirstCash, Inc.
Paula K. Garrett
Financial Services
Waters Corporation
Pearl S. Huang
Healthcare
Air Transport Services Group, Inc.
Phyllis J. Campbell
Industrials
Asian / Pacific Islander
Rafael Holdings, Inc.
Rachel Jonas
Healthcare
Public Storage
Rebecca L. Owen
Real Estate
Berry Corporation
Renee J. Hornbaker
Energy
OFS Capital Corporation
Romita Shetty
Financial Services
Asian / Pacific Islander
Petco Health and Wellness Company, Inc.
Sabrina L. Simmons
Consumer Cyclical
Asian / Pacific Islander
First United Corporation
Sanu Chadha
Financial Services
The Timken Company
Sarah C. Lauber
Industrials
Tactile Systems Technology, Inc.
Sheri Louise Dodd
Healthcare
NortonLifeLock Inc.
Sherrese M. Smith
Technology
Black / African American
Delek Logistics Partners, LP
Sherri A. Brillon
Energy
SkyWest, Inc., WisdomTree Investments, Inc.
Smita Conjeevaram
Industrials
Asian / Pacific Islander
SPX FLOW, Inc.
Sonya M. Roberts
Industrials
Black / African American
The Williams Companies, Inc.
Stacey H. Dore
Energy
Pioneer Bancorp, Inc.
Stacey Hengsterman
Financial Services
Independence Contract Drilling, Inc.
Stacy Durbin Nieuwoudt
Energy
Huntington Ingalls Industries, Inc.
Stephanie L. O'Sullivan
Industrials
Amcor Plc
Susan K. Carter
Consumer Cyclical
Five9, Inc.
Susan P. Barsamian
Technology
Rollins, Inc., RPC, Inc., Marine Products Corporation
Susan R. Bell
Consumer Cyclical
Univest Financial Corporation
Suzanne Keenan
Financial Services
Avidity Biosciences, Inc.
Tamar Thompson
Healthcare
The AES Corporation
Teresa M. Sebastian
Utilities
Black / African American
Kinsale Capital Group, Inc.
Teresa P. Chia
Financial Services
Asian / Pacific Islander
The Shyft Group, Inc.
Terri A. Pizzuto
Industrials
Capstar Financial Holdings, Inc.
Valora Gurganious
Financial Services
Eastman Chemical Company
Vanessa L. Allen Sutherland
Basic Materials
Addus HomeCare Corporation
Veronica Hill-Milbourne
Healthcare
Black / African American
Prudential Financial, Inc.
Wendy Elizabeth Jones
Financial Services
Benefitfocus, Inc.
Zeynep Young
Technology